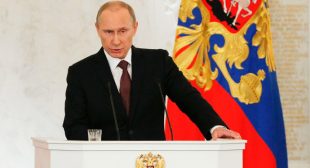 Crimea's secession from Ukraine was just like Kosovo's secession from Serbia, and any arguments otherwise are just attempts to bend the West-advocated rules that were applied to the Kosovo case, Russian President Vladimir Putin said.
The statements came as Putin was addressing the Russian parliament to convince lawmakers to ratify a treaty, which would make Crimea part of the Russian Federation.
In the speech he challenged Washington's position, which says that Kosovo was a unique case and could not justify any other move towards independence in the world.
"Our western partners created the Kosovo precedent with their own hands. In a situation absolutely the same as the one in Crimea they recognized Kosovo's secession from Serbia legitimate while arguing that no permission from a country's central authority for a unilateral declaration of independence is necessary," Putin reminded, adding that the UN International Court of Justice agreed to those arguments.
"That's what they wrote, that what they trumpeted all over the world, coerced everyone into it – and now they are complaining. Why is that?" he asked.