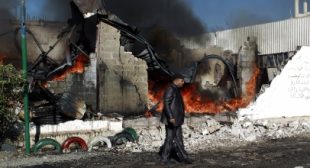 DONALD TRUMP'S FIRST concrete decision as commander in chief was a major fiasco that killed nine children, eight women, and a U.S. soldier in a botched raid on al Qaeda in Yemen.
The operation — which Trump reportedly approved over dinner — also failed to catch its reported target and severely damaged a local clinic, mosque, and school.
It's hard to imagine Donald Trump making the situation worse in Yemen, but he did.
Impoverished to begin with, Yemen is two years into a civil war that has killed 10,000 people and displaced millions. A U.S.-supplied bombing campaign has turned schools, hospitals, essential infrastructure, and ancient heritage sites into rubble. And a U.S.-backed blockade is preventing the trade of food and basic goods, starving a country that previously relied on imports for 90 percent of its food.