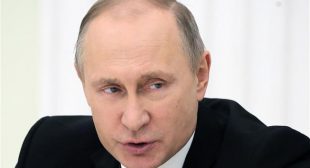 Russian President Vladimir Putin has hailed security and intelligence forces in his country for efforts that foiled more than 60 terrorist attacks.
Putin said Wednesday that intelligence agencies in Russia had played a huge role in ensuring security in the country over the past years as the government was busy countering terrorism in the region.
He said "over 60 terrorist crimes" had been neutralized by those security forces, but gave no further details.
The comments came during a ceremony to mark the 100th anniversary of the creation of an intelligence service in Russia. The Kremlin also used the occasion to honor the employees of its security and spy agencies.