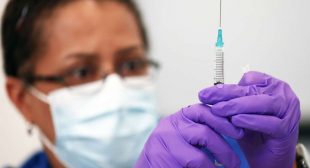 The Food and Drug Administration (FDA) gave the Pfizer-BioNTech COVID-19 vaccine full approval Monday, potentially opening the door to more vaccine mandates.
The Pfizer vaccine previously only had emergency use authorization (EUA), which meant that the FDA had deemed it safe and approved for the duration of the emergency declaration for the pandemic. While the FDA used the best available evidence based on clinical trials for the EUA, full approval required more evidence that the vaccine is safe and effective.
Full authorization of the vaccine may pave the way for employers to require workers to get vaccinated. Health officials are also hopeful that the FDA's approval will also convince people who have yet to be vaccinated to get the shot.