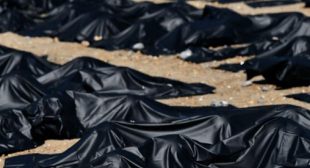 The Pentagon confirmed that it's seeking to provide as many as 100,000 military-style body bags for potential civilian use as the U.S. warns that deaths could soar in the coming weeks from the coronavirus pandemic.
The Federal Emergency Management Agency has requested 100,000 body bags, known as Human Remains Pouches, through an interagency group that directed it to the Defense Department.
The Defense Logistics Agency "is currently responding to FEMA's prudent planning efforts for 100,000 pouches to address mortuary contingencies on behalf of state health agencies," Lieutenant Colonel Mike Andrews, a Pentagon spokesman, said in a statement Thursday confirming a Bloomberg News report.