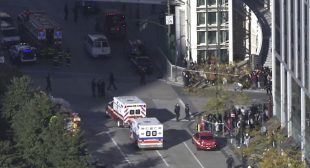 At least two people are feared dead and five injured following a mass casualty incident in downtown Manhattan Tuesday afternoon.
New York police confirmed that one suspect is in custody. Mayor Bill de Blasio assured New Yorkers that there is currently "no active threat," and Governor Andrew Cuomo is heading to the scene.
Details are still scant, but the incident apparently began when two trucks collided a few blocks away from the World Trade Center. The suspect, reportedly in a Home Depot truck, drove into the bike lane, knocking down cyclists, before exiting the vehicle and opening fire with what appeared to be a gun. Witnesses told New York Daily News that the gunman shot at least 15 times, first towards the pier and then down West Street.