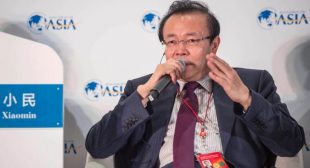 China sentenced a former finance chairman to death on charges of bribery and bigamy, Bloomberg reported on Tuesday.
Lai Xiaomin, who has been called China's most corrupt financial official, was the focus of an investigation in 2018 into his time as the chairman of the banking giant China Huarong Asset Management. The Chinese government later found him guilty of accepting $277 million in bribes from 2008 to 2018.
The court in Tianjin City said on Tuesday that Lai "endangered national financial security and financial stability," according to Bloomberg. Last January, he confessed to taking bribes when he said he kept the money in an apartment but "didn't spend a cent."
The court will confiscate Lai's personal assets, including properties, luxury watches, and flashy cars, Bloomberg reported.