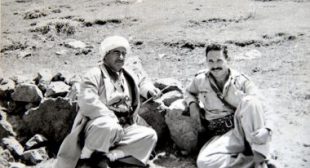 The Kurdish region in Iraq held a "referendum" about splitting off from Iraq to form an independent state. The referendum was highly irregular and the outcome was assured. That such a referendum was held now had more to do with the beleaguered situation of the illegitimate regional president Barzani than with a genuine opportunity to achieve independence. The referendum was non-binding. It is now onto Barzani to declare independence or to set the issue aside in exchange for, essentially, more money.
We first wrote about the Kurdish problem and Kurdish ambitions in Iraqi back in December 2005(!). The problems of an independent Kurdish region we then pointed out are still the same:
A landlocked Kurdish state of some kind could produce a lot of oil, but how would this oil reach the markets, especially Israel? The neighbors Turkey, Iran and Syria all have Kurdish minorities and have no reason to help a Kurdish state to enrich itself and see that money funneled to their unruly minorities. After [Kurdish] grabbing [of] Kirkuk, the Arab rest of Iraq will also not support pipelines for then Kurdish oil.
Arabs, Turks, and Persians see the Kurds as a recalcitrant nomadic mountain tribe and stooge of Israeli interests.
In the mid 1960s and 70s Israel cooperated with Iran, then a U.S. ally under the Shah, to fight against its Arab enemies – Iraq, Syria and Egypt. As part of the cooperation the Mossad sent Lt. Colonel Tzuri Sagi to develop plans for and build up a Kurdish army to fight Iraqi troops in northern Iraq. Tzuri Sagi was also responsible for the Israeli assassination attempts against Saddam Hussein. His Kurdish cooperation partner was the leader of the Barzani clan, Mullah Mustafa Barzani. The Kurdish army the Israelis created is now known as Peshmerga. The son of Mullah Mustafa Barzani, Masoud Barzani, is now the illegitimate president of the Kurdish region of Iraq.