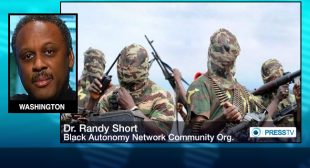 Boko Haram, a group which abducted about 300 Nigerian girls, was created by the CIA, says an analyst.
Boko Haram "is a CIA-created and funded group," Short said, adding the group's "weapons come from Libya. We know that the commander of the so-called Libyan revolutionary forces, Mr. (Khalifa) Hifter was trained by the CIA."
Speaking in an interview with Press TV on Thursday, Short said the United States aims to break down Nigeria into a micro state.