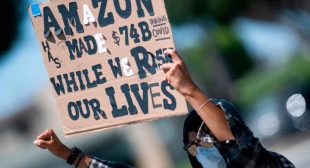 Billionaires in the US have increased their net worth by more than $1tn during the coronavirus pandemic, while many of their US workers have struggled with coronavirus risks in workplaces, for little to no extra pay to work in hazardous conditions, and millions of other Americans have struggled to survive on unemployment.
The Amazon CEO and founder, Jeff Bezos, added more than $70bn to his net worth during the coronavirus pandemic in 2020, which is now nearly $185bn.
As Amazon's sales have soared, workers at Amazon and Amazon-owned grocery chain Whole Foods have protested against unsafe working conditions and the pressures to keep up with demand.