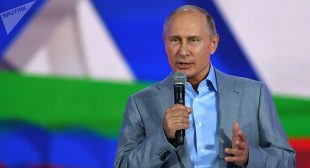 Speaking to participants of the World Festival of Youth and Students in Sochi, Russian President Vladimir Putin revealed the future technology he believes can prove to be more terrible than nuclear weapons.
According to the president, genetic programming of human beings according to specific characteristics may prove a mortal danger for humanity. In his view, while genetic engineering provides immense opportunities, including in the field of pharmacology, it also carries with it tremendous risks.
"One can almost imagine that people will be able to create human beings with specific characteristics. This can be a brilliant mathematician, or a brilliant musician, but it can also be a soldier – a human being capable of fighting without fear, without compassion, without regret, or even pain," Putin said.