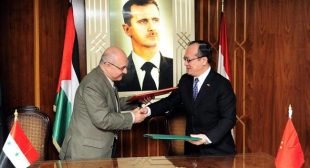 China is set to provide Syria with some 16 million dollars worth of humanitarian aid under cooperation agreements with the Damascus government.
On Sunday, the Chinese Embassy and the Syrian Planning and International Cooperation Commission (ICC) signed two agreements, under which Beijing will send two batches of humanitarian aid worth 16 million dollars to the Arab country.
China's envoy to Syria Qi Qianjin said the aid delivery will begin soon, adding that his country has been committed to providing crisis-hit Syria with aid over the past years.
"We sympathize with the Syrian people for what has befallen their country, and we are signing this agreement with the aim of bolstering friendship between the Chinese and Syrian peoples and to fulfill the international obligations and responsibilities," he said.