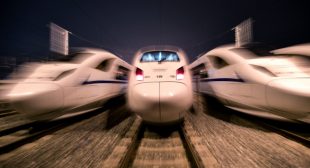 A new 658km high-speed rail service will be up and running in western China on Wednesday, linking Xian, home of China's famed terracotta warriors, to Chengdu in the heart of giant panda country.
With a top speed up to 250km/h, the new line took five years to build, winds through one of China's most mountainous areas and will cut the rail journey between the two cities from about 11 hours to 3½ hours, according to Xinhua.
The new line will not be the fastest in China but it will form a key part of the country's national high-speed railway system, linking the upstream areas of the Yellow and Yangtze rivers via 127 bridges and 34 tunnels.