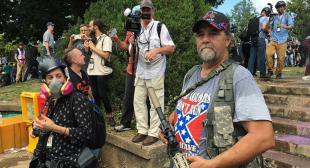 Multiple reports have highlighted the influx in white supremacist propaganda in California cities ahead of the upcoming white supremacist rally at Huntington Beach.
Days before the Easter holiday, the Huntington Beach Police Department received intel about fliers promoting an upcoming Ku Klux Klan (KKK) event which led to an initial investigation. A photo of one of the flyers, which reportedly featured a klansman with a burning cross, included information about an event later that evening.
The flyer's headline message read, "Say no to cultural genocide." However, the website and contact information were excluded.