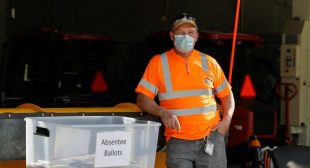 "I learned today that the (state Elections Commission) received a call from a postal service worker informing them 3 large tubs of absentee ballots from Oshkosh and Appleton, were just located," Republican Sen. Dan Feyen of Fond du Lac said on Twitter.
Get daily updates on the Packers during the season.
Meagan Wolfe, the administrator of the Elections Commission, said she is looking into the situation. She said she has not determined whether the ballots had been on their way to voters or already filled out and on their way back to clerks.
"We don't have answers on that at this point," Wolfe said during an online media briefing.