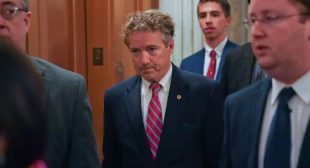 The line going around Washington these days is that the Republicans previously tried to hide a tax cut for the rich in their Obamacare repeal measures; and now they're hiding an Obamacare repeal inside their tax cut bill.
That's correct. The Senate Finance Committee on Tuesday slipped a provision into its tax cut bill that would effectively repeal the Affordable Care Act's individual mandate. On the surface, this is a fiscal measure—it would theoretically reduce the federal deficit by $338 billion over 10 years, according to the Congressional Budget Office.
That's $338 billion the GOP could upstream to wealthy taxpayers in the form of a tax cut. But the costs and impact would fall squarely on the middle class. The repeal would drive as many as 13 million Americans out of the insurance market.