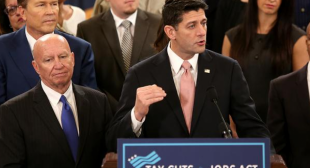 Progressives on Tuesday urged Trump critics to voice their opposition to the tax bill that House Republicans are hoping to push through, after the Congressional Budget Office (CBO) reported that the legislation could put billions of dollars in Medicare spending in danger.
Because the bill would add an estimated $1.5 trillion to the federal deficit over the next decade, the CBO said in a letter to Congress, the government would be required to automatically cut mandatory spending should the bill pass, under "pay-as-you-go" rules, also known as PAYGO.
To make up for the deficit increase, the government would have to cut $150 billion in spending every year for the next decade.