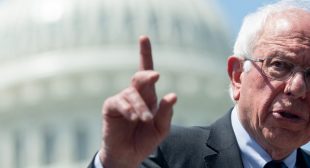 With just two weeks to go before California's closely watched gubernatorial recall election, Senator Bernie Sanders warned Sunday that the effort to oust Gov. Gavin Newsom is a "bold-faced Republican power grab" and urged the state's voters to reject it at the polls.
"At this unprecedented moment in American history, when we're trying to address the crisis of climate change, guarantee healthcare for all, and pass real immigration reform, the last thing we need is to have some right-wing Republican governor in California," Sanders (I-Vt.), the chair of the Senate Budget Committee, said in a 30-second spot recorded for the "Stop the Republican Recall" campaign.
"Return your ballot, or vote no in person, by September 14th," added the Vermont senator, who won California's 2020 Democratic presidential primary.