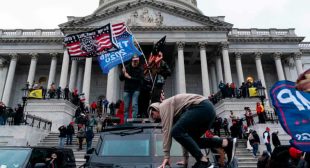 Audio and chat logs reveal that at least two insurrectionists who broke into the Capitol on 6 January used Zello, a social media walkie-talkie app that critics say has largely ignored a growing far-right user base.
"We are in the main dome right now," said a female militia member, speaking on Zello, her voice competing with the cacophony of a clash with Capitol police. "We are rocking it. They're throwing grenades, they're frickin' shooting people with paintballs, but we're in here."
"God bless and godspeed. Keep going," said a male voice from a quiet environment.
"Jess, do your shit," said another. "This is what we fucking lived up for. Everything we fucking trained for."