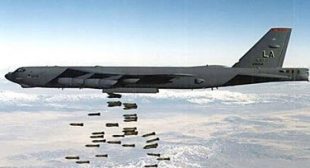 This legislation, introduced by Rep. Alcee Hastings (D-FL), is as it appears: an authorization for the President to use military force against Iran. But it is much worse than that.
Why so? Because it specifically authorizes the president to launch a pre-emptive war on Iran at any time of his choosing and without any further Congressional oversight or input. The operative sentence in the resolution reads, "The President is authorized to use the Armed Forces of the United States as the President determines necessary and appropriate in order to achieve the goal of preventing Iran from obtaining nuclear weapons." (Emphasis added).
President Trump — and, importantly, his entire national security team — has been extraordinarily aggressive toward Iran, repeatedly threatening that country both at the negotiating table and on the battlefield. H.J.Res 10 would be just the blank check the Administration craves to realize such threats.