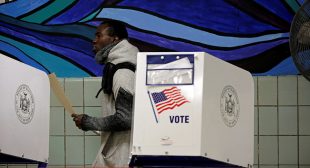 The Department of Justice alleges the New York Board of Elections broke the law when it purged approximately 117,000 Brooklyn voters before the presidential primary.
The federal agency intervened in a lawsuit against the New York City Board of Elections (NYCBOE) over the purge which had many Brooklyn residents showing up at the polls to vote to be told they were not eligible.
The Department of Justice said in its brief, filed in federal court on Thursday, the move violated the National Voter Registration Act of 1993.