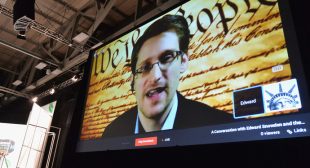 A secret spy program developed by the National Security Agency and reported publically for the first time on Tuesday has given the United States the ability to digitally record the contents of each and every phone call occurring across entire nations.
Citing previously unpublished documents provided by former NSA contractor Edward Snowden and statements from individuals with direct knowledge of the effort, the Washington Post's Barton Gellman and Ashkan Soltani wrote that the US-administered surveillance system is capable of recording "100 percent" of a foreign country's telephone calls.
The program, "MYSTIC," was launched back in 2009, according to the Post, but by 2011 it was ready to be rolled-out at full capacity and was subsequently deployed against at least one target nation. The Post says they are withholding details "that could be used to identify the country where the system is being employed or other countries where its use was envisioned" upon the request of US officials.