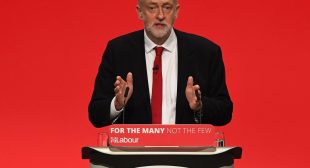 Theresa May's crisis has deepened today with a new poll showing Labour surging ahead of the Conservatives, while the public now also has a clear preference for Jeremy Corbyn as Prime Minister.
The exclusive survey for The Independent by BMG Research now has Labour five points ahead of the Tories, who are still reeling from a coup launched by ex-ministers to overthrow Ms May.
Mr Corbyn, fresh from a conference at which he cemented his position, has a two point lead over Ms May in terms of who the public would prefer to be running the country.