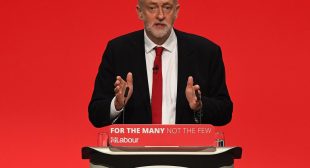 Jeremy Corbyn has announced Labour would grant an official apology and pardon for the suffragettes if it wins the next election.
On the centenary of some women over 30 achieving the right to vote, the government is facing calls to overturn the convictions of female activists jailed before the implementation of the Representation of the People Act.
"As a country, we must recognise and honour the enormous contribution and sacrifice made by women who campaigned for the right to vote," Corbyn said on Tuesday morning.
"Many of those women were treated appallingly by society and the state. Convictions of suffragettes were politically motivated and bore no relation to the acts committed. Some were severely mistreated and force-fed in prison post-conviction so a pardon could mean something to their families.