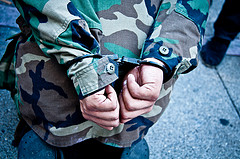 News has just broken about a freedom activist and former Marine named Brandon Raub, who was arrested (apparently without a warrant or being read his rights) on the evening of August 16th. Details are still coming in, but it appears that his "crime" was posting things that the overseers didn't like on Facebook.
As I recount the facts of this horrifying case (as best I am able), please remember that the violation of this man's natural rights is not the issue I wish to point out, as ultra-valid as that may be.
WHAT HE DID
From the above link, you can find five articles from Brandon on a pro-liberty website. Perhaps we might quibble with these posts on a few points (I'm for abandoning politics rather than trying to use it, for example), but it is clear that the young man is thinking along some good lines.
He also promoted a small freedom march in Richmond, Virginia last November. It was peaceful and I've seen no problems reported. So, aside from a picture of him holding an old rifle, the only thing the overseers had on him were a few recent Facebook posts:
I feel like I am standing at a great crossroads. As if a storm of destiny is about to pick me up and take me to fight a great battle. A battle I could have never imagined existed. 7/24/12
We MUST rise up and take our country back. 7/30/12
I am standing against a great evil. I will do it all by myself if I have to. 8/4/12
This is the part where I tell the Federal Government to go fuck itself. This is the part where I tell Generals, training our young men to fight Americans, I am coming for you. The Veterans will be with me. 8/9/12
I'm starting the Revolution. I'm done waiting. 8/10/12
Sharpen up my axe; I'm here to sever heads. 8/13/12
The Revolution will come for me. Men will be at my door soon to pick me up to lead it. 8/14/12
The Revolution is here. And I will lead it. 8/14/12
#6, by the way, seems to be a lyric from a song called Bring Me Down by a band called Swollen Members. Several of these sound like rants a lot of us have had in moments of frustration.