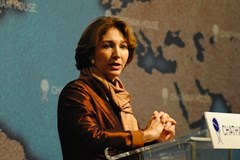 Anna-Marie Slaughter demonstrates that you need not scratch a "humanitarian interventionist" much to uncover the warmongering neoconservative just below the surface.
In an essay today, titled, "Stopping Russia Starts in Syria," she argues that "the solution to the crisis in Ukraine lies in part in Syria." President Obama must "demonstrate that he can order the offensive use of force in circumstances other than secret drone attacks or covert operations," she writes.
Translation: to get Putin back for his supposed actions in Ukraine, Slaughter calls for President Obama to bomb Syria.