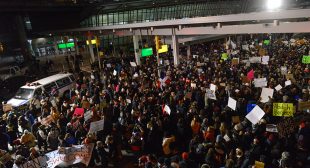 A Brooklyn judge issued an emergency stay, temporarily freezing the expulsion of travelers under the newly-signed executive order by President Donald Trump that covers 7 Arab nations, after a habeas corpus petition was filed by the American Civil Liberties Union.
Judge Ann Donnelly of the US District Court for the Eastern District of New York issued the ruling after the American Union of Civil Liberties (ACLU) filed a legal challenge on behalf of two Iraqi immigrants, Hameed Khalid Darweesh and Sameer Abdulkhaleq Alshawi.
Both were denied entry to the US after landing at the airports despite having valid visas. US President Donald Trump, US Department of Homeland Security and US Customs and Border Protection are listed among the respondents.
The emergency stay does not only apply to Darweesh and Alshawi, but will also temporarily forbid US authorities from deporting immigrants with valid travel documents who are stranded at airports across the US due to the Trump's order.