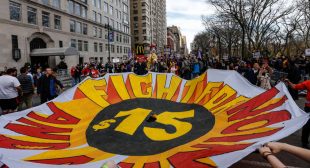 President Joe Biden plans to announce on Tuesday that he is raising the minimum wage for employees contracted to work for the federal government to $15 per hour starting next spring.
The increase will represent a 37 percent increase in pay overall from the current federal workers' minimum wage, which presently sits at $10.95 per hour. The order will positively impact hundreds of thousands of workers that are employed as contractors through the federal government, according to White House officials.
The pay raise will not be implemented right away. Instead, workers will see their new wages take effect starting March 30, 2022, meaning current employees of the federal government won't see raises for nearly a year.