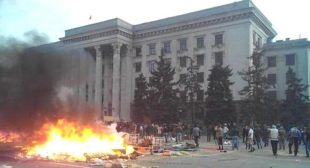 The following text and photos were sent to Global Research. They indicate a carefully planned agenda to incinerate people inside the Trade Unions building.
The images as well as reports suggest that the death toll was significantly higher than that published by the media.
The Western media has been involved in acts of coverup and distortion, describing the self-proclaimed Neo-Nazi Brown shirts as nationalists and "honest patriots". Western governments have casually blamed the atrocities in Odessa on "pro-Russian paramilitaries".