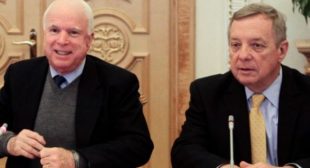 US senators John McCain (R-Arizona) and Dick Durbin (D-Illinois) have called on President Barack Obama to immediately send arms and other military equipment to Ukraine.
McCain, who lost the 2008 presidential election to Obama, said if he were the president, he would have already sent arms to Ukraine, adding one of the urgent requests of Ukraine's new government from Washington is to supply them with weapons.
"To make it happen, all the president has to do is order it tomorrow," McCain said. "He can have it done tomorrow.