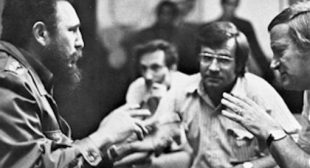 When we talk about Castro's critics, it is worth pointing out that we are talking people who live in societies where poverty has been unofficially criminalized and the poor demonized, despised, and abandoned to a fate of destitution and despair.
We are talking, in the main, the kind of men and women who walk or drive past the ever-growing army of homeless who colonize the streets of towns and cities throughout the West, casualties of a neoliberal economic system that is the real tyrant in our world, without batting an eyelid.
In other words, we are talking people whose condemnation of Fidel Castro is suffused with hypocrisy, the kind that is common among those who have imbibed the received truths of empire. The most fundamental of those truths is that the West has been divinely ordained with the task of colonizing a Third World – culturally, economically, and geopolitically – that consists of peoples of lower cultures, civilizations, and human worth.