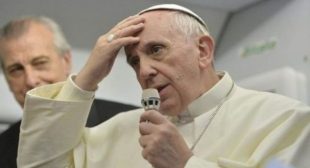 During a meeting with the Community of the Pontifical Piusy ​​College of Rome, held in Italy, Pope Francis demanded on Saturday the need for a "united and fraternal clergy in solidarity" in Brazil, facing the "scandalous corruption" of the Brazilian government.
"At this difficult time in their national history, when so many people seem to have lost hope in a better future because of the enormous social problems and scandalous corruption, Brazil needs its clergy to be a sign of hope," the Pope said.
It is not the first time that Pope Francis has spoken on the subject.
Brazilians "need to see a united and fraternal clergy in solidarity in which priests tackle the obstacles together without falling into the temptations of selfishness," said the Pope. "I am sure that Brazil will overcome its crisis and I trust that you will act as protagonists in this," said Francis to students and members of the Church.