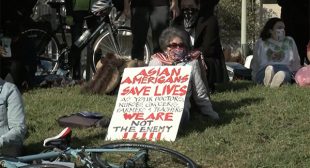 In the wake of a spike of violent attacks against Asian and Asian-American residents, many of them elderly, outraged citizens from all different backgrounds in U.S. cities Oakland and San Francisco have joined in solidarity over the past weekend.
In San Francisco, 84-year-old Vicha Ratanapakdee died after an attacker knocked him to the pavement on January 30. The next day, in Oakland's Chinatown, a 91-year-old man is shoved to the ground by an assailant who's now been charged with three different assaults on that day.
"I was just tired of everything going on social media, the attacks against the elders, them getting hurt, the robberies. It's just disgusting to look at, and I'm like, why is nothing happening?" said JoJo Au, who was born and raised in Oakland's Chinatown.
As a community activist, Au recently launched a fundraiser to hire armed, private security guards to patrol both the city's Chinatown and nearby areas. To her surprise, she met her goal of raising $25,000 in one day, raised the goal to $50,000 and met that, too.
"Honestly, I didn't know it was going to spread like wildfire," Au said. "So many people were so concerned about it but wanted to do something but didn't know what. I'm glad that I did this, cause you know … The merchants they even say they feel safer. Some of the shoppers they feel safer."