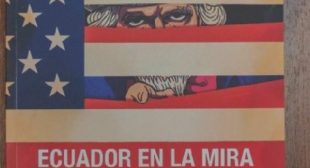 Norwegian journalist Eirik Vold identifies current vice presidential candidate for the right-wing CREO party as a key U.S. contact in the country.
In his new book, "Ecuador In the Sights: The WikiLeaks Revelations and the Conspiracy Against the Government of Rafael Correa," released this week in Quito, Norwegian journalist Eirik Vold details attempts by the U.S. government to topple Ecuadorean President Rafael Correa and derail his Citizens' Revolution.
"Correa was not about to let Washington maintain its dominance through financial institutions like the World Bank and the International Monetary Fund," Vold told the Andes press agency in explaining the motivation behind years of U.S. efforts to undermine the Ecuadorean president.