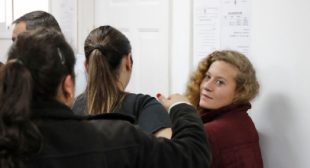 Israeli military court extended the detention of Ahed Tamimi, a 16-year-old girl who has become the face of Palestinian resistance to Israel's military occupation of the West Bank for many who follow the weekly protests in her village through social media.
The girl was arrested in an overnight raid of her family's home in the village of Nabi Saleh early Monday.
The arrest, and images of the less-than-daring raid released by the Israeli police to broadcasters, appeared to be an effort to placate far-right Israelis who were angered by video recorded last Friday, as the Palestinian teenager and a female cousin forced two heavily armed Israeli soldiers from her front yard, slapping and kicking them.