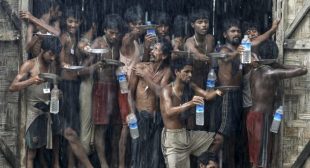 re details have emerged about Thailand's ugly trade in people now that a marathon trial has ended in Bangkok with 62 people convicted of human trafficking and other serious crimes.
Camps set up by traffickers in the jungle on the Thai-Malaysian border to hold Rohingya and other 'boat people' existed for many years prior to government crackdown in mid-2015 that curtailed the brutal trade, a key activist group has said.
Freeland, a Bangkok-based non-government group that fights wildlife trafficking and human slavery, worked with Thai police to identify key figures in the smuggling networks that were rounded up and put on trial.
The group said on Friday it "believes that more than 500 people died in the camps where the people in this particular trafficking chain were held, and that the camps were probably there for at least five years or more."