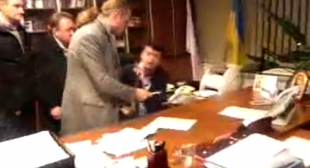 A Ukrainian nationalist MP assisted by a group of helpers abused and threatened interim head of Ukraine's National TV. They accused him of being anti-Ukrainian and bullied him into signing his resignation, claiming to be members of a new media regulator.
The office of the acting CEO of the National Television Company of Ukraine, Aleksandr Panteleymonov, was stormed by people who claimed to be members of the freedom of speech and information committee. Among them were Ukrainian Svoboda MP Igor Miroshnynchenko and party ideologist Andrey Ilyenko. What began as a loud conversation quickly turned into a fight.
A video of the incident has been posted online.