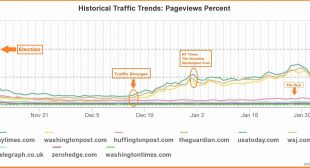 Last week the Failing New York Times published an article crediting Donald Trump and the controversial election for "more subscribers in three months than all of 2015," claiming the addition of 276,000 new "digital-only" customers. The beleaguered publication owned by Mexican Billionaire Carlos Slim is doing so well in fact that they are vacating 8 floors of their New York headquarters to generate "significant rental revenue," as well as pushing lame Twitter ads offering 40% off subscriptions which state things like "Truth. It's vital to democracy" and "The best independent journalism."
While subscriber count has allegedly increased, website traffic really didn't start picking up until the first week in December. The Washington Post and The Guardian (UK) saw similar traffic trends around the same time, in stark contrast to most of their peers. A quick before-and-after illustrates the dramatic pickup in visitors.
The catch is, the traffic seems to be coming from China.
What's most interesting is that The NY Times has been completely blocked in China since 2012, and just last month Apple was ordered to pull two NYT apps from the App store despite users being unable to view content since the original 2012 ban.