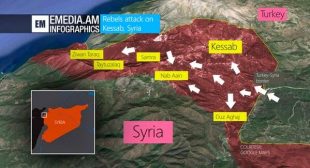 Fighting continues in northern Syria – as NATO-backed Al Qaeda militants desecrate churches, displace local population, and impose "Sharia law."
Fighting on the Syrian-Turkish border near the northwestern Syrian town of Kassab between Al Qaeda insurgents Jabhat Al Nusra and the Syrian military continues for the fifth day.
Insurgents are shelling the towns near Kassab in Latakia province while the military is returning fire on their positions.
–
Point 45, a strategic hilltop overlooking Latakia's countryside and Kassab, was regained by the Syrian army, initially lost to the mlitants flooding in from the Turkish side of the border.
–
Meanwhile the insurgents are reported to have moved through Kassab village reaching the shores of the Mediterranean Sea.