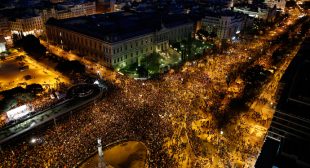 Protesters clashed with police in Madrid as thousands of people trekked across Spain to protest austerity which they claim is destroying their country. Under the banner "no more cuts!" the protesters called for an end to the government's "empty promises."
Police arrested 17 protesters and 27 were said to be injured during the clashes which took place after the march, El Mundo newspaper reported, posting graphic video footage of the arrests. Twenty of the injured are said to be police officers. One of them is reported to be seriously injured.
Protesters were seen throwing stones and firecrackers at police. According to witnesses, officers used tear gas to disperse the demonstrators.