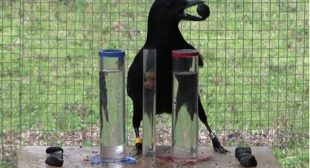 New Caledonian crows are as good at reasoning as a human seven-year-old, claim researchers.
The scientists subjected six wild crows to a battery of tests designed to challenge their understanding of causal relationships. The "water displacement" tasks were all variations of an Aesop's fable in which a thirsty crow drops stones to raise the level of water in a pitcher.
In the study, crows worked out how to obtain floating food rewards by dropping heavy objects into water-filled tubes.
They demonstrated an ability to choose objects that would sink rather than float, and solid rather than hollow objects, and they were able to choose a high water level tube over one with a low water level, and a water-filled tube over one filled with san