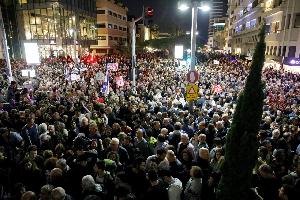 About 20,000 Israelis demonstrated in Tel Aviv on Saturday against government corruption and Prime Minister Benjamin Netanyahu who is under criminal investigation over allegations of abuse of office.
The demonstration was by far the largest of weekly anti-corruption protests sparked by corruption allegations against Netanyahu, who denies any wrongdoing.
The four-term leader is suspected of involvement in two cases. The first involves receiving gifts from wealthy businessmen and the second involves negotiating a deal with a newspaper owner for better coverage in return for curbs on a rival daily.