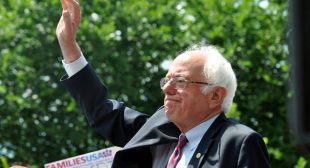 In order to lift the burden of debt on millions of students and unleash the potential of current and futute generations, Sen. Bernie Sanders (I-Vt.) declared on Tuesday night that the time is now "to make public colleges and universities tuition free" in the United States.
In the speech, delivered at Castleton University in his home state of Vermont, Sanders called for all US students, regardless of background or ambitions, to have access to higher education that would not saddle them with loans.
"It's time to reduce the outrageously heavy burden of student debt that is weighing down the lives of millions of college graduates," Sanders said.
"And let me be very clear," he added. "I am not just talking about 4-year universities and colleges. I am talking about community colleges. I am talking about vocational schools. I am talking about apprenticeships. We desperately need highly trained and highly skilled electricians, welders, plumbers, mechanics, pipefitters and health care workers of every kind. Each and every American must be able to get the education they need to match their skills and fulfill their dreams."