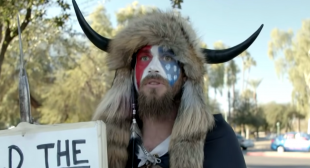 As the U.S. Department of Justice and the Federal Bureau of Investigation (FBI) continue investigating the January 6 attack on the U.S. Capitol, reality is setting in for the alleged suspects facing charges.
According to the Associated Press, many of the high-profile suspects have had time to reflect on their actions and have issued statements of apology for their alleged participation in the deadly riots. Jacob Chansley — the helmet-wearing, self-proclaimed QAnon Shaman — was at the center of many highly publicized photos of the insurrection and appeared to take a sense of pride in his actions.
But one month later, he issued a statement of apology from prison. As part of his apology, Chansley asked for understanding as he came to grips with the weight of his actions. At the time, Chansley admitted that he now believes former President Donald Trump "was not honorable," according to The Independent.