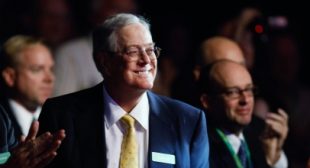 The Intercept obtained a messaging memo from the Koch brothers' network on how to sell tax reform legislation. The memo went out to members of the network of likeminded Republican donors, which includes dozens of wealthy investors and business executives.
The talking points suggest that backers of the tax cuts feel vulnerable to the charge that the tax cuts will jack up the deficit.
"In case it is helpful to you in your own discussions with lawmakers and others," the memo begins, "below is a list of talking points that address some of the key hurdles to passing tax reform this year."
The memo goes on to encourage lawmakers to avoid becoming distracted by deficit concerns when passing the GOP tax reform package.