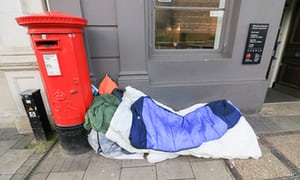 The number of homeless people recorded dying on streets or in temporary accommodation has more than doubled over the last five years in the UK, the Guardian can reveal.
With people found dead in supermarket car parks, church graveyards and crowded hostels, the number of deaths has risen year on year, from 31 in 2013 to 70 in 2017. At least 230 people have died over that period.
The figures compiled by the Guardian, which include an average of more than one death a week in 2017, are likely to be a substantial underestimate, as no part of the UK government records homeless death statistics at a national level, and local authorities are not required to count rough sleeper deaths.
According to the Guardian's figures, the average age of a rough sleeper at death was 43, nearly half the UK life expectancy. Around 90% of those who died in the last five years were men, when the gender was provided.