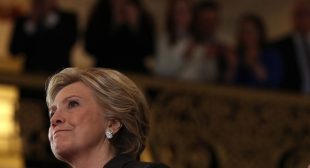 Democrats intend to repeat the party'€™s failed strategies.
If the recount efforts weren't a partisan effort being pushed by Hillary Clinton and her supporters—or a publicity stunt led by Jill Stein to subvert attacks claiming her candidacy is the reason Clinton lost—then Michigan, Pennsylvania and Wisconsin wouldn't be the only states where a recount is being demanded.
On November 28, Ron Fournier, associate publisher of Crain's Detroit and contributor to The Atlantic, tweeted:
"Raising doubts about legitimacy of election, even w/out overturning result, is part of Clinton's plans to keep her options open for 2020"
When pressed on what his sources were to corroborate the claim, Fournier said, "by talking to people who talk to her." Fournier also pointed to an article he wrote on the Clinton Foundation that appeared in The Atlantic and National Journal, in which he cited anonymous Clinton loyalists, as a source.