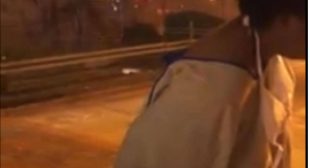 The woman was filmed by a local psychotherapist, who eventually got her help after coaxing her to sit down, and who said that she was clearly not capable of being discharged form the facility.
In the video, which he posted online, the woman is seen shuffling in the cold, grunting, and sobbing in apparent confusion over her circumstance. She appears to have wounds on her forehead.
"They just left all of her stuff out here. This is disgusting that they would just leave here unattended on a bus stop, half naked," Imamu Baraka says in the video, pointing his phone camera at clear plastic bags leaned up against the bus stop bench.