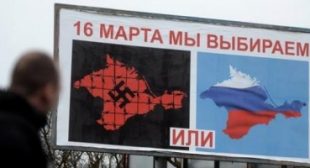 "On the 16th of March We Choose" neo-Nazi Ukraine "Or" Russia
Media reports acknowledge that 83.1 percent of eligible Crimean voters cast their ballot in the March 18th referendum.
The final tally of the vote was 96.77 percent in favor of joining the Russian Federation, and 2.51 percent against.
The Western media has underscored that both the Crimean Tatars as well as the Ukrainian population of Crimea were against joining the Russian Federation. The Non-Russian population constitutes 41.7 percent of the Crimean population.
According to official data, Russians constitute 58.32% of the population of Crimea, 24.32% are Ukrainians and 12.10% are Crimean Tatars.
The Guardian, in a slither of media disinformation intimated that the Tatars feared a wave of repression if Crimea were to join the Russian Federation.