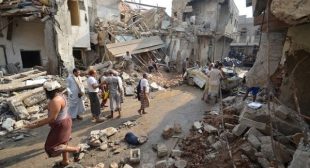 In a rare divergence from Saudi Arabia, U.S. President Donald Trump called on the kingdom to end its blockade on Yemen, citing human rights.
The blockade in Yemen that has accompanied the Saudi-led coalition's intervention in Yemen's war has restricted access to food and medical supplies.
According to reports, two out of three Yemenis face the risk of starvation while many more are suffering from cholera, rabies, bacterial infections, and other preventable diseases.